Long Island City Flower Delivery
Flower Delivery in Long Island City, New York
Welcome to Field Trip Flowers! 
Looking for a Long Island City flower delivery? Look no further than Field Trip Flowers! As the go-to florist in neighboring Geenpoint, Brooklyn we offer eco-friendly flower delivery with a variety of fresh flowers, dried flowers, bouquets, and arrangements that are perfect for any occasion. Our thoughtfully sourced, artfully arranged, and sustainably wrapped flowers will be delivered to your desired Long Island City location.
At Field Trip Flowers, we take great pride in creating seasonally inspired arrangements consisting of fresh flowers, dried flowers, one-of-a-kind arrangements, and fun add-on options for your flower order. Whether you're looking to surprise someone special, brighten up your home, or add some life to your office, we've got you covered!
For those looking for Long Island City flower delivery on a regular basis, we offer recurring deliveries when you sign up through our easy subscription service. Sign up for our flower subscription service today to have fresh flowers delivered to you or your favorite flower enthusiast on a recurring basis. While we do provide same-day delivery in most cases, we always encourage ordering in advance to ensure availability.
Committed to Sustainable Practices
Sustainability within the floral industry is very important to us. With every order fulfillment, we aim for zero waste floristry. We don't use dyed/bleached products, plastic wrap, excessive packaging, or floral foam. Every order is filled with responsibly sourced flowers, packaged in 100% recyclable and compostable material.
Unlike traditional florists, we are committed to waste reduction. If our flowers don't make it out fresh, we don't trash them. We find thoughtful ways to use them in our dried flower rotation, donate them or compost them. It's a win-win for you, us, and our planet.
We also source our flowers from local farms and direct wholesalers, which helps us improve local economies and promote sustainability in the areas we serve.
However, when seasons change and finding the best blooms around us becomes challenging, we expand our horizons. We work hard to source American-grown flowers and prefer domestic over international suppliers. 
Our team is committed to providing quality flower arrangements as we work to make a positive impact on the environment. By choosing Field Trip Flowers, you can enjoy guilt-free, beautiful flowers while also helping to protect our planet!
Our Delivery Process
Placing an order with Field Trip Flowers is easy and fun. To order with us, visit our daily flowers page, choose the flowers you want, and add them to your cart. It's also important to check our popular add-on choices for your order which include additional gifts such as chocolate or seasonal candles.
The next step includes entering your delivery address, including a personalized note, special requirements, and payment details.
From Tuesday to Saturday, we can deliver fresh flowers to any address in NYC and the boroughs, including Brooklyn, Manhattan, and Queens. Our delivery fees range from $15-$45. Just enter your zip code at the top of the screen to see if we can deliver to you!
Please note that our flower delivery service is only available from Tuesday to Saturday. Our team can provide same-day delivery, but we cannot guarantee it; buying in advance, particularly during the holidays, is highly encouraged.
Choosing a Sustainable Flower Delivery Service
Long Island City is one of the most exciting places to live in New York City, and for a good reason. The area is experiencing an unprecedented boom in development, and it is poised for continued growth in the coming years.
At Field Trip Flowers, we are committed to bringing sustainability to Long Island City's flower delivery sector. We pride ourselves in offering eco-friendly flower arrangements in NYC and the surrounding areas.
Flower Subscriptions: Weekly/Bi-weekly/Monthly Long Island City Flower Delivery
We offer fresh flower subscriptions in addition to our one-time flower delivery service, which allows you to have fresh flowers sent on a regular basis. A subscription may satisfy your heart's desire by sending seasonal bouquets on a regular basis to you or someone special. 
Signing up for our flower subscription service is simple: 
1. Choose the size of your bouquet. 
2. Choose the frequency (weekly, bi-weekly, or monthly) 
3. Choose your delivery location. 
Sign up for a floral subscription now if you want more regular flower delivery!
Flower Subscription
Regular price
Sale price
$50.00
Unit price
per
Sale
Sold out
View full details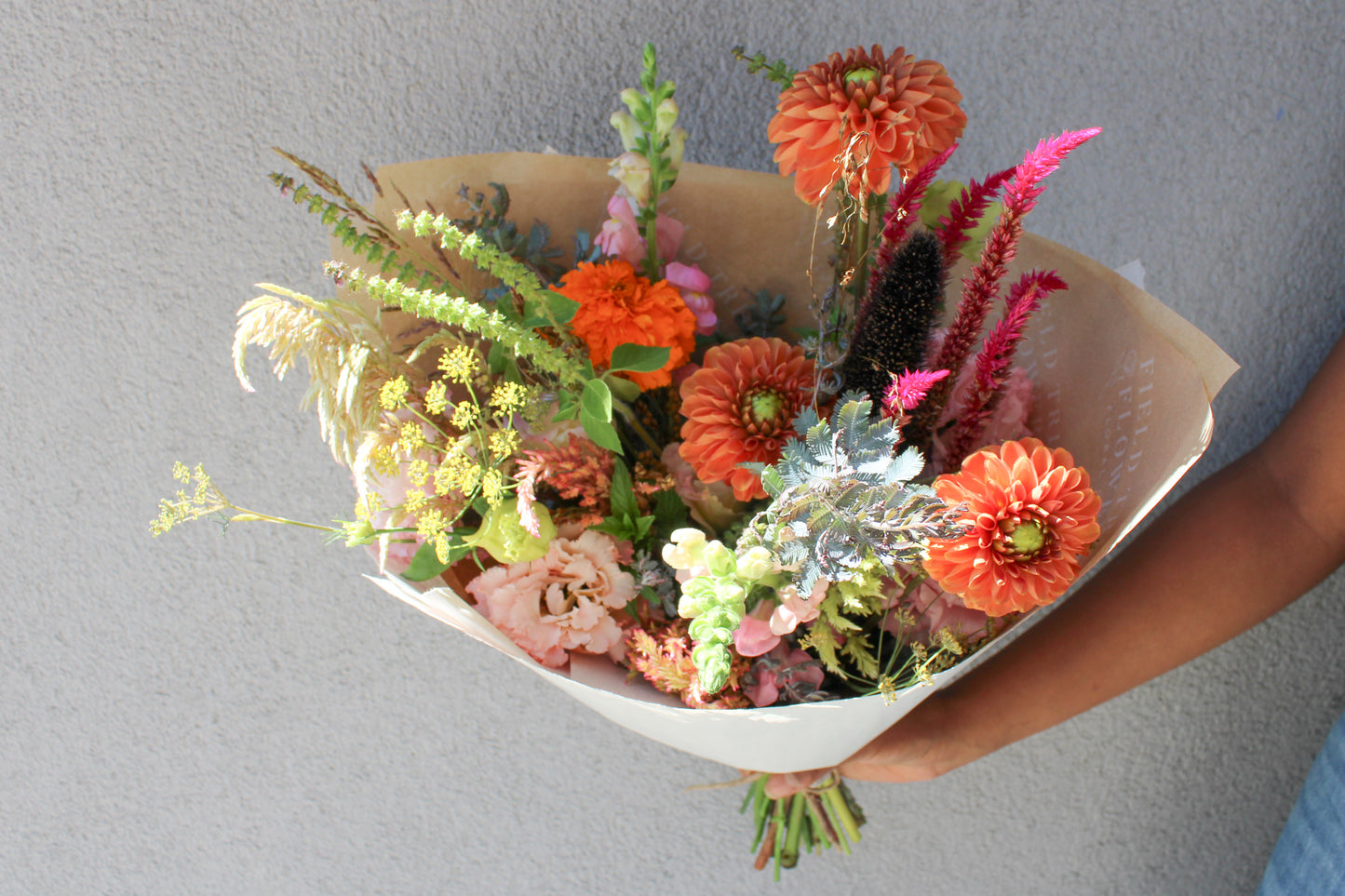 Reasons to Choose Field Trip Flowers
Sending flowers to your loved one is a beautiful, memorable act. It can be a simple bouquet or a bigger arrangement. No matter the situation, sending flowers will always be a unique way to say "I'm thinking of you" or "happy birthday!". 
Here are some of the benefits of sending flowers with Field Trip Flowers:
Great Value
We offer a wide variety of options for your flower delivery needs. You can rely on us if you want to send a simple, one-of-a-kind bouquet to someone special or more artful arrangements for special occasions, like birthdays and anniversaries. We have an extensive range of flower options available for delivery all year round at competitive prices.
Unique Flowers
We don't have basic flowers just shipped to our studio…we hand-pick seasonal, unique flowers to compliment our wild, garden aesthetic. We work closely and partner with flower farmers and direct wholesalers to bring you the best and freshest of what's in season. Whether it's something light and neutral or cheery and bright, Field Trip Flowers has you covered.
Personalized Arrangements for Weddings and Events
We understand that our customers have different tastes and preferences, so we accommodate those when designing our flowers. After all, this is your day…we want it to be perfect and memorable for you, your guests, and us!
Flower Arrangement Workshops
Our flower workshops are a fun and practical approach to learn about flower care, sustainable design techniques/mechanics, and floral arrangement if you're ready to take your floral abilities to the next level. Our classes are held at our Greenpoint, Brooklyn studio as well as other specified areas across the neighborhood. Follow us on social media for updates on our floral arrangement workshops: @fieldtripflowers!
A Wide Range of Seasonal Bouquets for All Occasions
If you need flowers delivered on Valentine's Day, we have them. If you need to send sympathy flowers, we have those too. We have birthday and anniversary flowers, get well soon, and so many more. We can deliver the perfect bouquet for any occasion.
Our Flower Quality Is Unparalleled
We carefully select flowers that are cultivated with care and love by professional growers who take pride in their work. Depending on the season, we choose various flowers and hand-arrange them in our signature style.
And our team doesn't stop there. We hand-deliver your bouquet to ensure it arrives on time and in perfect condition. All of our flowers are guaranteed to be fresh and beautiful for many days after delivery.
Unique Add-Ons
To add extra value to your order, we offer a variety of unique add-ons to compliment your flower purchase. These include chocolates, candles, dried flowers, and more. You can add these to your order when you checkout online.
What Our Customers Have to Say
Simply put: our customers love us. Field Trip Flowers takes pride in providing stellar customer service because we love what we do. Our reputation precedes us, which is evident from our customer reviews.
Contact Field Trip Flowers Today
Field Trip Flowers is proud to provide exceptional flower delivery services for the Long Island City area, where quality, care, and service are at the forefront of every step of the flower delivery process. With a wide range of beautiful blooms available for daily delivery or through our flower subscription service, we ensure that our customers always have access to the freshest and most beautiful flowers. 
Whether you're celebrating a special occasion or simply want to brighten someone's day, our flower delivery service ensures that your flowers are not only one-of-a-kind but also environmentally friendly. If you're searching for a quality Long Island City flower delivery service, look no further than Field Trip Flowers. Contact us today to place your order and experience our commitment to exceptional service and sustainability.
Don't see what you're looking for?
We love making people smile everyday! We try our very best to offer a wide range of ordering options so everybody can join in on our flower journey. 
If you need something custom or have any questions about the ordering process, please call us or shoot us an e-mail! We are happy to help & always here to create the perfect floral gift.
FAQs:
Are there any advantages to buying flowers on certain days of the week?

Buying flowers on certain days of the week can be a great way to save money and get the best selection. Many florists offer discounts or special deals on certain days, so it's important to know when these days are in order to get the best deal. Knowing when the best time to buy flowers can help you save money and ensure you get the most beautiful blooms for your loved one.
What is the best way to care for my flowers?

To ensure your flowers last as long as possible, it is important to properly care for them once they arrive. Here are a few tips:

1. Place your bouquet in a cool spot away from direct sunlight and heaters.

2. Change the water in your vase every two days, and add flower food to extend the life of your bouquet.

3. Remove any wilted or dead petals immediately as they will cause other flowers to deteriorate faster.

4. Cut the stems at an angle each time you change the water, this allows them to absorb more water and promotes better hydration.
Which cut flower is the most popular for purchase?

Roses are the most popular cut flower for purchase in Long Island City, New York. This is due to their symbolic meaning of love and romance, as well as their stunning beauty and fragrance. The classic red rose is the most popular choice, but there are many other colors available such as pink, white, yellow, peach, and lavender. For those looking for a more unique option, we also offer many other varieties of fresh flowers.