Regular price
Sale price
$35.00
Unit price
per
Sale
Sold out
Our fresh eucalyptus is always American grown! This fragrant bouquet is a must-have for your space. Hang it up in the shower or vase it up in the bedroom or office, this fragrant eucalyptus bouquet comes all tied up & ready to please!
Tip: Eucalyptus will stay fragrant & fresh for a long time (just trim the stems & change the water)! It also dries beautifully - hang it upside down & let it dry for everlasting results.
Flowers will vary depending on our rotation, the season & market availability. Images are meant to convey our general aesthetic, overall size & shape.
Special requests? Please let us know at checkout and we will do our very best to accomodate!
Wanna add something special to your order? Head over to our "Gifts & Goods" section and check out our current inventory. Our online gift shop features products designed by us and sourced from our favorite USA-based artisans.
View full details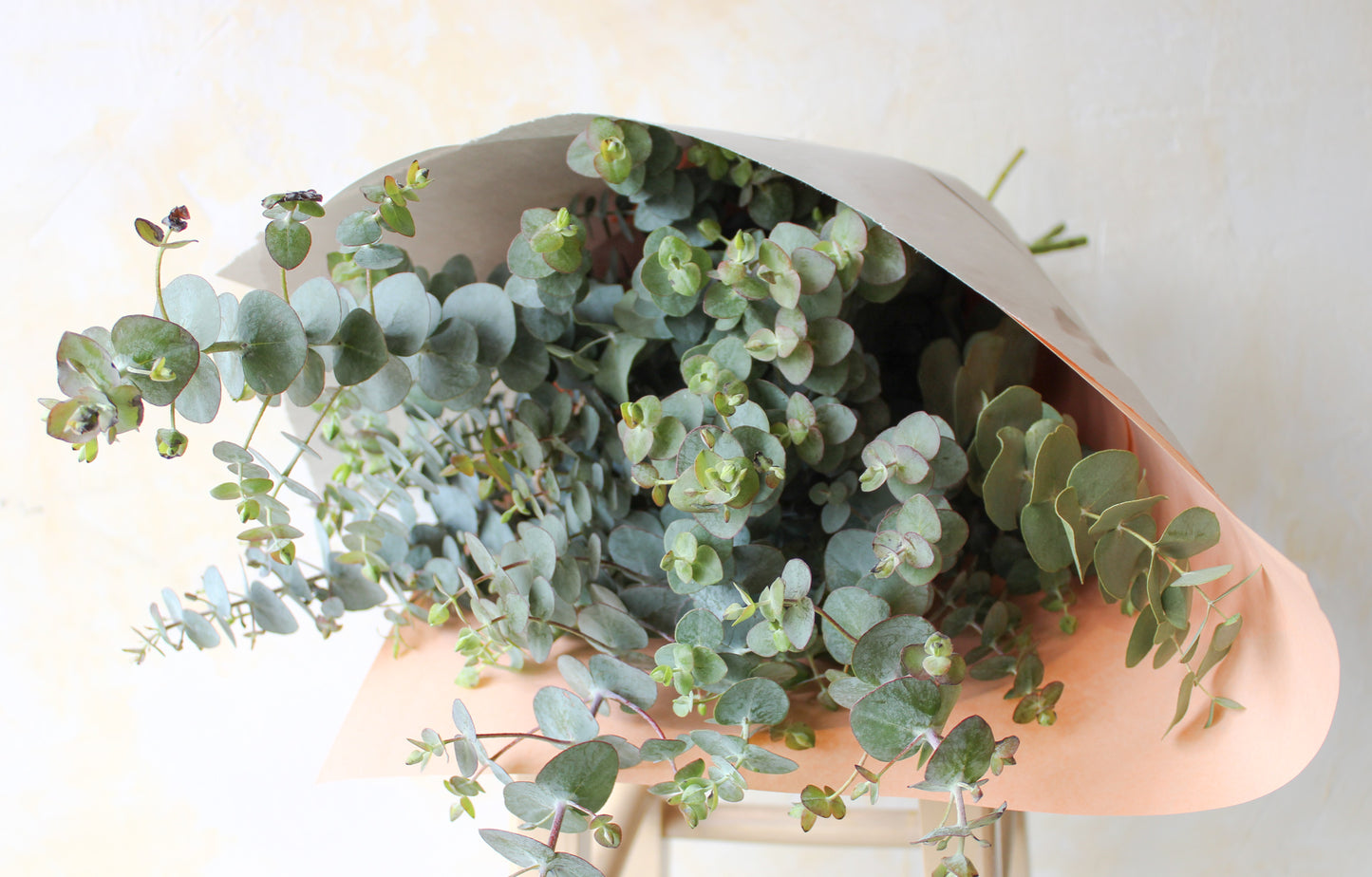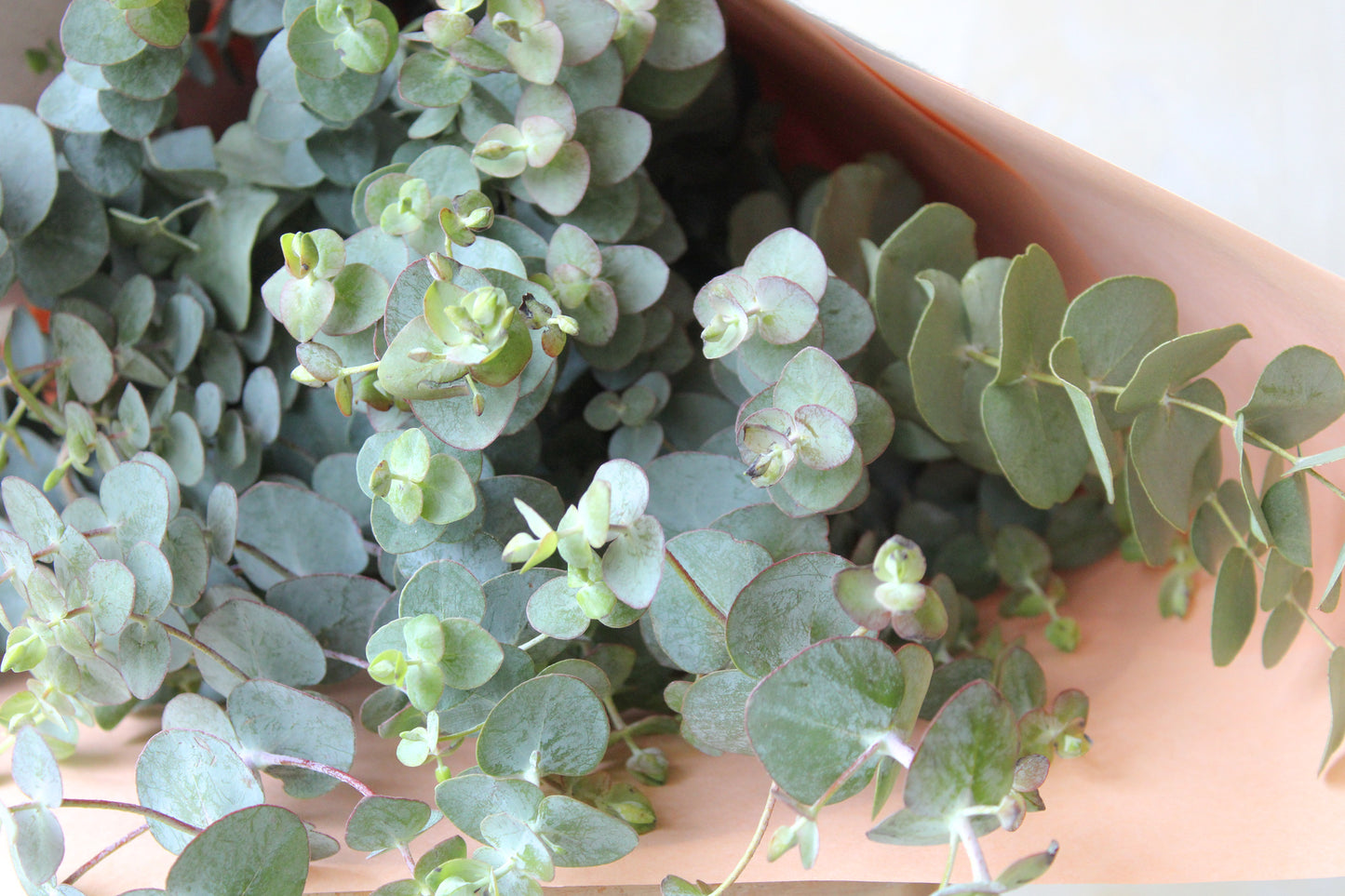 Delivery Info




Tuesday - Saturday by 7 p.m




Due to high volume & NYC traffic, we do not take requests for certain delivery times - daily orders are delivered by the most efficient route & guaranteed by 7 p.m.




We deliver to many, many zip codes throughout Brooklyn, Queens & Manhattan. If you need a delivery outside of our current zones, give us a call or e-mail us!




Delivery fee is $15-$45 & determined by the burrough, base price + mileage.




No minimum required.

Pick Up Info




Tuesday - Saturday, 12 - 3 p.m.




Pick up is at our studio in Greenpoint, Brooklyn. Please choose your time of pick up during checkout so we can have it ready for you!





No minimum required.
FAQs:
What types of eucalyptus are used in bouquets?

The type of eucalyptus used in bouquets varies depending on availability. Common varieties of eucalyptus used in bouquets include silver dollar eucalyptus, seeded eucalyptus, baby blue eucalyptus, and spiral eucalyptus.
How long does a eucalyptus bouquet last?

A fresh eucalyptus bouquet can last anywhere from 7 to 14 days, depending on the climate and care it receives. To maximize the lifespan of your bouquet, keep it in a cool area away from direct sunlight and heat sources. Make sure to check the water every few days and replace as necessary. Additionally, you can add flower food or sugar to the water to extend the life of the flowers.
What is the symbolism of eucalyptus?

The eucalyptus plant has long been used as a symbol of healing, protection, and purification. This is due to the cleansing properties of its fragrant oils which have been used in traditional ceremonies for centuries. It also has spiritual connotations, as many believe that it can be used to ward off negative energy and help bring about positive change.