Williamsburg Flower Delivery
Williamsburg Flower Delivery
Looking for a local, quality florist delivering to Williamsburg, Brooklyn? Field Trip Flowers is proud to offer sustainable, eco-friendly flower delivery throughout the Brooklyn and New York areas which includes a complete range of Williamsburg flower delivery services. Our friendly & experienced team is here to help you choose the perfect floral gift for any occasion - thoughtfully arranged, packaged & delivered with care to Williamsburg locations.
As the number one florist in neighboring Greenpoint, Brooklyn, we pride ourselves in designing beautiful, seasonal arrangements chock full of fresh flowers, dried flowers, one-a-kind arrangements, & fun add-ons to complete your flower order! In addition, for those looking for Williamsburg flower delivery on a regular basis, we offer recurring deliveries via our popular subscription service. Enjoy the freshest flowers, delivered right to you, as often as you'd like (and our subscription service also makes for the perfect gift)!
Ordering Online - Floral Delivery
To order flowers for delivery, browse through our daily flowers page on our website, choose your flowers & add it to your cart (don't forget to check out our popular add-ons for your order such as a seasonal candle or chocolate!), provide delivery address details, a personalized note, any special requests and make payment. 
Please note that our local flower delivery service is available Tuesday through Saturday (with guaranteed delivery by 7 P.M.). We do offer same-day delivery but we cannot guarantee it - ordering in advance is highly recommended.
Flower Subscriptions
In addition to our one-off flower delivery service, we offer fresh flower subscriptions, allowing you to enjoy fresh flowers delivered on a recurring basis. Getting started with our fresh flower subscription is easy - choose the desired frequency (weekly, bi-weekly or monthly), choose the size and whether you'd like the flowers delivered to you or picked up at our Greenpoint location.
Flower Subscription
Regular price
Sale price
$50.00
Unit price
per
Sale
Sold out
View full details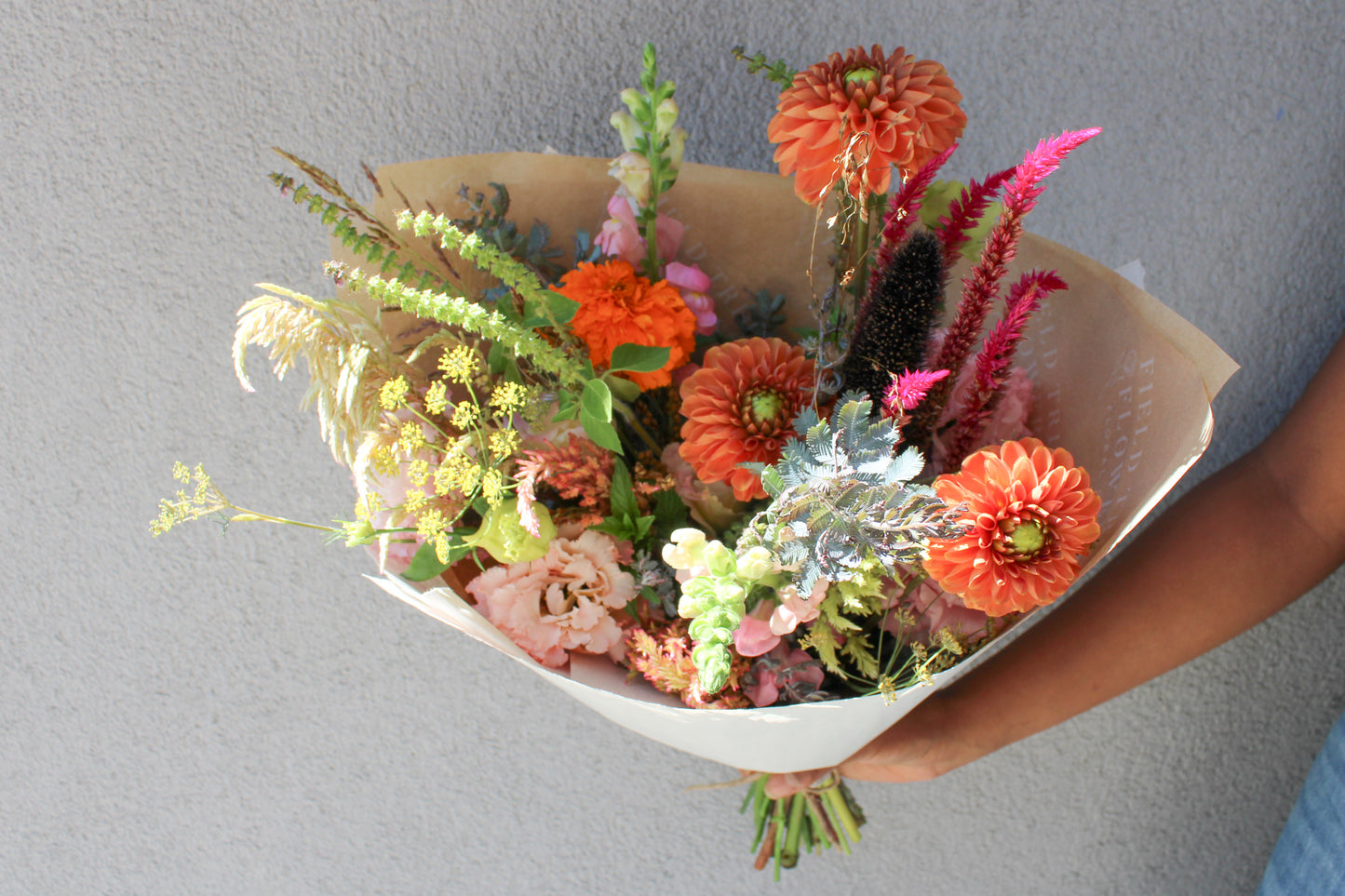 Why Choose a Local Florist in Williamsburg, Brooklyn?
As Greenpoint's #1 florist providing fresh flower delivery across Brooklyn and New York, our team of dedicated florists is committed to providing you with the very best selection of fresh flowers. Whenever possible, we work with local farms, American grown flowers & independent wholesalers to bring you sustainable, eco-friendly floral arrangements.
Variety of Flowers
Field Trip Flowers works with local flower farms, American-grown flowers & independent wholesalers to offer a wide selection of flower arrangements. Our designs are fresh, unique, and wildly seasonal - all thoughtfully arranged and delivered with care.
Unique Add-Ons
In addition to our beautiful flowers, we have a wide selection of curated add-ons to complete your flower order. Our add-ons are made by us & other small businesses that we truly love! Add-ons rotate depending on the season but always include dried flowers, chocolate, candles, and more - easily add to any order as you checkout online!
Eco-Friendly
We are proud to be an eco-friendly Brooklyn flower shop - no foam, plastic, tints or bleach used with our flowers or any of our services. We use recyclable & compostable packaging & strive to reduce our waste to a minimum. In addition, to minimize our carbon footprint, we work closely with local flower farmers & independent suppliers. We prioritize American grown flowers over imported flowers from overseas.
Gift Cards Available
Not quite sure what to order but want to still give the gift of flowers? Our gift cards are the perfect solution! We offer physical cards at our Brooklyn store as well as e-gift cards, which can be purchased via our website. All gift cards are valid for one year from the date of purchase and good to use online or in person.
Workshops
Interested in taking your floral skills to the next level with Field Trip Flowers? Our floral arrangement workshops are a fun, practical way to learn all about sustainable floral care, design techniques & flower arranging. We host our workshops at our Greenpoint location & at other select venues in the area. Get in touch to find out more about our workshops!
Weddings & Events
Looking for a Brooklyn florist for your next event? We offer tailor-made floral arrangements, thoughtfully planned & designed just for you.  From intimate dinners, showers and weddings, our experienced team of floral experts can create natural, wild, whimsical floral designs to make your event extra special. More details about our event service can be found here.
Glowing Reviews
Put simply, our customers love us! We pride ourselves on our top notch, personable customer service - we absolutely love what we do! We have over 100 five star Google reviews, with many new and repeat customers loving, not only our flowers, but our sustainable, eco-friendly approach!
Get in Touch Today!
Since 2020, Jenny and the team at Field Trip Flowers have been arranging and delivering beautiful fresh flowers throughout Brooklyn and New York. Whether you are looking for a one-off delivery for a loved one, a floral arrangement for your next event, or flowers delivered weekly, the team at Field Trip Flowers is here to help & bring your floral vision to life!
Don't see what you're looking for?
We love making people smile everyday! We try our very best to offer a wide range of ordering options so everybody can join in on our flower journey. 
If you need something custom or have any questions about the ordering process, please call us or shoot us an e-mail! We are happy to help & always here to create the perfect floral gift.
FAQs:
How can I save money on flower delivery?

When shopping for flower delivery in Williamsburg, there are several ways to save money. One of the most popular methods is to buy flowers in bulk. Many florists offer discounts for orders placed in bulk; these discounts can be quite significant and can make flower delivery much more affordable. Finally, some florists may offer promotional codes or discounts that can be used to make flower delivery even more affordable.
What types of flowers do you deliver?

At Field Trip Flowers, we specialize in delivering fresh and beautiful blooms. We carry a range of different flower varieties including roses, lilies, tulips, eucalyptus, protea, and more! We can also accommodate any special requests you may have for your order.
What is the average delivery time?

Due to NYC traffic & high volume, we are unable to guarantee a specific time of delivery. Orders are delivered based on the most efficient route for the day & guaranteed to arrive by 7 p.m.