Park Slope Flower Delivery
Flower Delivery in Park Slope, New York
Here at Field Trip Flowers, we understand that a simple act of kindness can keep you connected to the ones you love the most. As a result, we aim to offer a convenient, tasteful, and eco-friendly flower delivery service to Park Slope, Brooklyn, NYC.
Enjoy fresh flowers on any occasion, benefit from same-day delivery (in most cases), and have the peace of mind of knowing you chose a Park Slope flower delivery service that is independently owned and keeps things personable!
Our selection includes fresh and dried flowers, beautiful arrangements and bouquets, and add-ons like greeting cards, chocolates, candles, and more. We also offer a subscription service for those who love receiving recurring deliveries of fresh flowers!
With our pretty selection of flowers, our dedication to the environment, and our fast delivery service, Field Trip Flowers is the go-to florist for Park Slope flower delivery service in New York.
What Happens When You Order Flowers From Field Trip Flowers?
Our online ordering makes it easy to browse and see the arrangements and bouquets we create with our seasonal inventory. Once you pick the option that suits you, you can provide any specifics (palette, allergies, etc.) and customize it with as many add-ons as you want.
If you don't see what you want, get in touch with us - we'll discuss our options and give you a quote. We love creating the perfect floral gift for our customers.
We offer two ways of getting your flowers: delivery and pick up at our Greenpoint studio.
Delivery & Pick-Up
We deliver Tuesday through Saturday, guaranteed by 7 p.m.
We take as many same-day orders as possible but with our current order volumes and NYC traffic, placing your order in advance is highly encouraged.
We deliver flowers throughout Park Slope and other Brooklyn neighborhoods. We also deliver to Queens and Manhattan addresses (just plug your zip code in at the top of our site to see if we can deliver to you!).
Alternatively, you can pick up your order in-person at our Greenpoint studio if it's more convenient for you. We're located at 173 Green Street in Brooklyn.
When you checkout, make sure to select pick up and your preferred time. Pick-up is available Tuesday through Saturday, 12-3 p.m.
Be sure to check out our delivery and pick-up info.
Flower Subscription
Regular price
Sale price
$50.00
Unit price
per
Sale
Sold out
View full details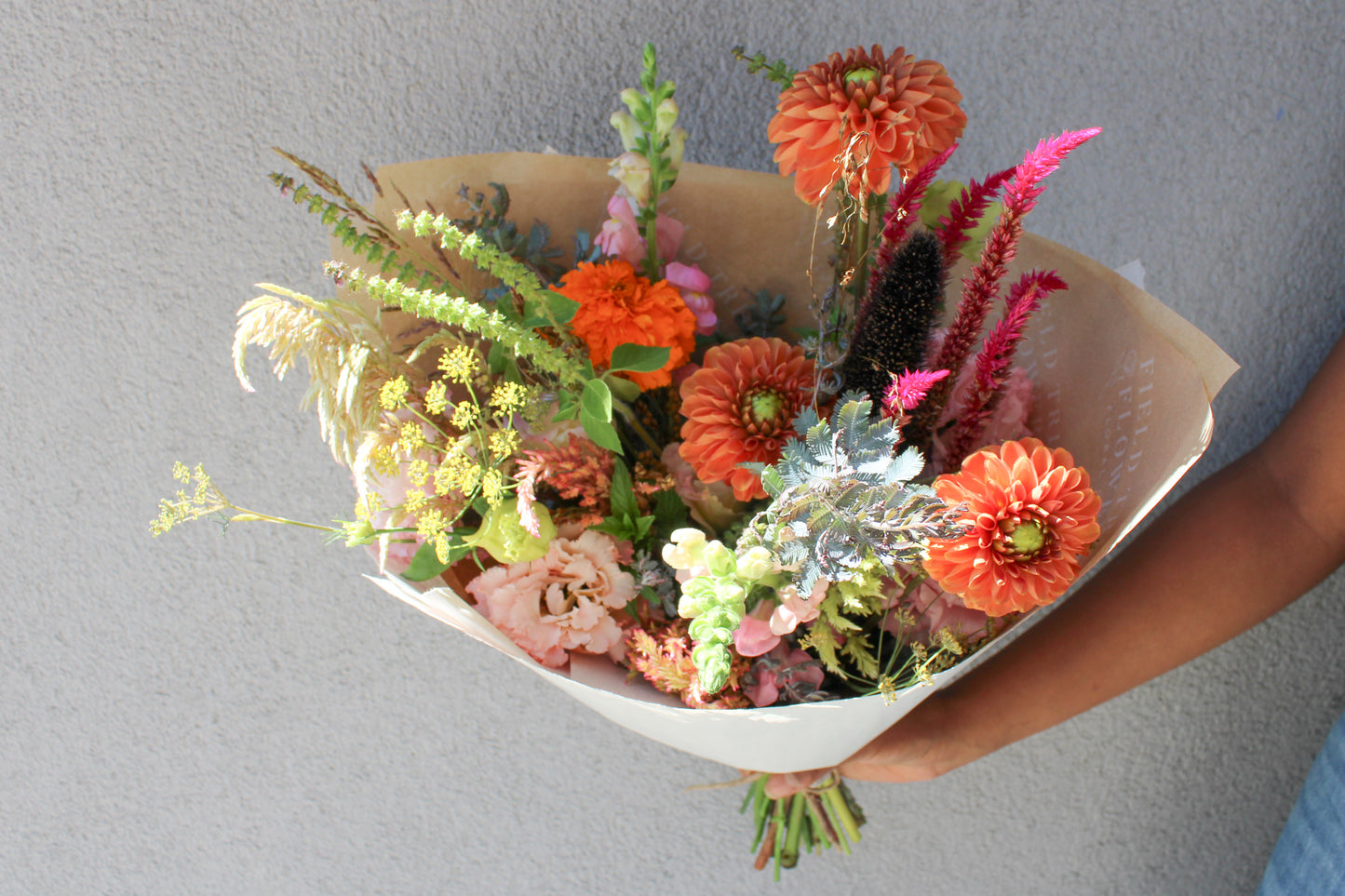 Why Choose Field Trip Flowers?
What sets us apart from other flower delivery services? We are passionate about what we do and love creating personable, one-of-a-kind arrangements with the freshest flowers we can get our hands on!
Discover an Amazing Selection
We responsibly source flowers and always have a vast selection of fresh flowers in our rotation. We prioritize American-grown flowers (and locally grown during the warmer months) over imported products. We also work with dried flowers to reduce waste and offer popular, ever-lasting bouquets and arrangements.
Fast Delivery
We understand that flowers are a way to send love to someone special. Our flower delivery services in Park Slope allow you to stay connected, even when you're far away.
Our same-day delivery service is a good way to show that you care and that you're thinking of someone. If we cannot offer same-day delivery, we'll do everything we can to deliver your flowers the next day.
Whether you want to surprise a loved one, celebrate a special occasion, or express your sympathy, you can count on us to deliver your flowers safely and on time.
Our Commitment to the Environment
Water usage, preservatives, waste, bleach, paints, foams, chemicals, the list goes on. With so many new, toxic floral trends, flower farmers and flower shops have a duty to take steps to create a more sustainable industry.
Sustainability is at the core of what we do at Field Trip Flowers. We primarily source our flowers from the states and local growers. We prioritize growers who use similar practices and reduce our carbon footprint by minimizing our use of flowers from overseas.
We also reduce waste by using 100% recyclable and compostable packaging for our bouquets and dry out our inventory to offer dried flowers as a long-lasting alternative to fresh flowers.
Flowers and More
Besides offering a wide selection of fresh and dried flowers, we offer some fun add-ons you can select to customize your order.
You can surprise a loved one by adding some seasonal candles, chocolates, gardening kits, greeting cards, and more to your order.
We also offer gift cards, a subscription service with weekly, bi-weekly, or monthly deliveries, and workshops to share our love of creating zero-waste floral arrangements.
What Makes Field Trip Flowers the Best Park Slope Flower Delivery Service?
A few things set us apart from other flower shops in the area.
Our Online Platform
We've created a convenient website where you can browse through our creations to find the perfect gift. Ordering is easy thanks to our checkout process, and you can call us if you have any questions or would like a quote for a customized order.
Customer Service
We have a five-star rating on Google reviews! We've achieved this rating by consistently offering excellent customer service and high-quality products. We strive to keep your experience as personable as possible.
We have strict standards for the flowers we source, and we go above and beyond to ensure every single one of our customers is satisfied with the process.
Communication
You can count on us to keep you updated regarding your order. You'll receive a confirmation after placing an order on our platform and we'll share a delivery confirmation once your order makes it safely to its destination.
Contact Field Trip Flowers Today
Our team here at Field Trip Flowers proudly provides high-quality flower delivery services in the Park Slope and surrounding areas of New York. With a focus on local sourcing, seasonal blooms, and zero waste arrangements, we aim to bring beauty and joy to the community through our unique offerings. Whether you need flowers for a special occasion or just because, we promise to always deliver fresh and fun bouquets to make the day brighter. We're here to offer an outstanding customer service experience, high-quality product, and a fast and reliable Park Slope flower delivery service.
Take a look at our current selection of bouquets and arrangements, or get in touch with us if you have any questions about the ordering process! With our convenient online ordering system and reliable delivery service, we make it easy for our customers in Park Slope to enjoy our flowers.
Don't see what you're looking for?
We love making people smile everyday! We try our very best to offer a wide range of ordering options so everybody can join in on our flower journey. 
If you need something custom or have any questions about the ordering process, please call us or shoot us an e-mail! We are happy to help & always here to create the perfect floral gift.